Since 2001, with the marriage of Casey and Laura, and the creation of Schwieter Land & Livestock, it has been a prospering and evolving ranch operation in Northeast Missouri. Over time the business has grown to include customers throughout the United States.
Growth also includes the addition of two sons, Crayton and Garrett. They are key contributors, as they continue to learn and experience life in the industry.
Schwieter Land & Livestock is diversified, managing a beef cattle herd, pasture land, fields of row crop, as well as hobby projects and animals, while placing a strong emphasis on horse training. Purchasing young colts, teaching them the basics, developing their talents and providing them to buyers is a full time job, but that's not the only full time in the household. Casey works full time and the boys are active in school and extra curricular activities.
This tight-knit, busy, hard-working family chips out time for travel, domestically and internationally. From horse back riding out the back door to exploring beaches in Costa Rica- share in our travel excursions, horse training adventures and everything in between.
Dreamed of traveling but think it's impossible while owning livestock or don't even know where to start? Enjoy riding, but looking for your next mount from a trusted source?
Whether it's owning a Schwieter- broke- horse or traveling to a domestic or exotic location, let us help you make it a reality.
The Crew:
Casey: The trail boss and ranch manager. He's been riding horses for almost 40 years, even though he doesn't look a day over 30! Banker by day, his true happiness is felt at home riding and ranching. Occasionally even he needs a break from it all and enjoys a vacation now and again.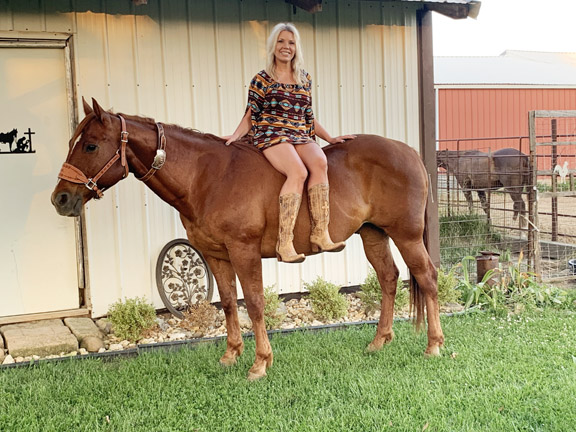 Laura: The Ranch Public Relations Manager. Fairly new to the horse business, she has embraced the opportunity to ride great horses and also promote the family business. A busy mom, she still finds time to plan trips and dream of a life involving even more travel.
Crayton: The roping and rodeo, high school stud of the family. He grows taller and stronger everyday, I think. He's independent and busy but manages to get a lot of work done when he's home. He starts and trains horses for himself and has been riding outside horses too.
Garrett: The assistant ranch manager. He keeps us all organized while still finding time to be a country kid- fishing, trapping as well as riding and training. He always has a "project" in the works, whether its a horse he's training or a new shed or pen for a pet.